When Michael and Anna met three and a half years ago, they had no idea what was in store for them.
"I was coming from my niece's birthday party," Anna explains. "Michael was coming from church. We were just sort of drawn together. We started talking on the sidewalk and we've been together ever since."
After getting married, Michael and Anna settled into a home on the West Side where they planned to stay and raise a family. Unfortunately, problems with the house soon became apparent. The young couple found themselves without heat in the middle of the cold Buffalo winter. When the landlord refused to address the issues, Michael and Anna sought another living situation. It fell through and the now pregnant couple found themselves homeless. They spent their days looking for work and a home, and evenings at Friends of Night People.
Support from donors like you allows Friends of Night People to provide nutritious, high quality food, clothing, and support during difficult times.
"I would rather eat here than anywhere else in the city," Michael says. Anna agrees, smiling. With Anna's pregnancy progressing and the Buffalo winter pressing on them, they worked hard and eventually moved into a new home. Michael Jr. was born shortly after. Today, Michael and Anna continue to visit Friends of Night People. The meals help the family make ends meet. And the clothes closet makes clothing the ever-growing Michael Jr. easy. One of the main factors in the family continuing to visit Friends of Night People, however, is the supportive environment the organization provides.
"The difference between Friends of Night People and other places is that they really care here," Michael explains. "They have patience. They'll sit with you and help you make calls if you need it. They don't just shove you out when you're done eating."
"The name of this place is perfect," Michael says. "Friends of Night People. They make sure you know you're not alone and even if things are really bad, that there is someone out there who cares about you. Yeah, the name is perfect."
Your generosity today helps Michael and Anna, and others like them navigate from being homeless to settling into a home. Your help feeds individuals who may be experiencing homelessness for the very first time as they feel alone and afraid.
Your kindness is appreciated and helps provide nourishing meals throughout the year.
Wishing You Health & Happiness,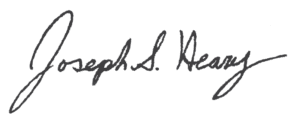 Joseph S. Heary
Executive Director
PS. Do you know how it feels to have difficulties with housing and food? Well, this is why our six free feeding programs across Buffalo, and our essential needs programs have existed since 1969. This winter, you can give them food and hope.
PSS. Making a monthly gift is easy, convenient, and helps you and I fight hunger and homelessness all year.
These can be set-up online for as little as $10.00.